RESOURCES
Click on a link for more information.
---
---
DRY BASEMENT TIPS
Here are some helpful tips to help you keep your basement dry and avoid foundation problems.
Check and clean your gutters and downspouts on a regular basis.
Add downspout extensions to move water least 5 feet away from the building.
Keep all grading (soil and landscaping) around building sloped away at least 2″ per 10 feet.
Make sure that all concrete surface areas and driveways are pitched away from the building.
Check your sump pump for proper operation and settings.
Run a your basement dehumidifier on the highest setting, 24 hours during months of high humidity, typically May through December.
Seal leaky dryer vents with foil tape to prevent unwanted humid air from entering your basement.
Keep windows closed during humid weather.
In the basement, cover exposed cold water pipes with foam insulation to stop condensation.
If you need more help, call or contact CRC today!

COMMON BASEMENT AND FOUNDATION PROBLEMS
    
The common problem signs related to damp / wet or foundation issues include but are not limited to:
• Cracks
• Bowed walls
• Sunken concrete floors
• Loose mortar
• Water stains on walls
• Damp or Wet wall
• Efflorescence (white film) on walls
• Mold or mildew present
• Puddles on floor
• Water seepage through floor cracks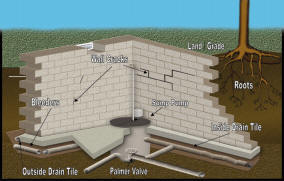 There are a number of conditions which can attribute to a wet, leaky basement and unstable foundation:
Fundamental causes may relate to simple factors regarding water flow around the foundation, such as: poor grading next to the building (whether that's soil, planting beds, concrete, or asphalt) , clogged or missing downspouts/gutters, or a non-operational Palmer Valve.  Occasionally, a wet basement is the result of a sump pump (click link for information) that has been improperly adjusted, is under-sized, or is no longer working.  Perhaps the most common cause is generally attributed to an ineffective drain tile system due to tile (pipe) that has become plugged, was not installed properly, or is under-sized for the home.    Aside from water related issues, sometimes basements and foundations and drainage systems are damaged by ground settling/shifting or invasion from tree roots.  CRC offering a variety of repair services that will address your specifics needs.

WISCONSIN ASSOCIATION OF FOUNDATION REPAIR PROFESSIONALS
CRC is proud to be a member of the Wisconsin Association of Foundation Repair Professionals. WAPRF maintains a set of ethics and repair quality standards that ensure customer satisfaction, including: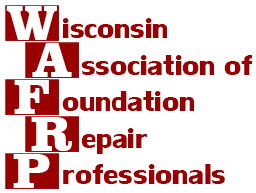 Licensed, bonded, and insured
Clearly defined warranties in writing
All contractors follow good construction practice and applicable codes
All required permits and inspections provided
Competitive pricing
Follows strong code of ethics
Structural engineer access, when required
In the event of a dispute, WAFRP will assist in mediation/arbitration at minimal cost.Click here to learn more on WAFRP

WAFRP BASEMENT REPAIR QUALITY STANDARDS</
Here is a link to the Repair Quality Standards from the WAFRP website.